More than 65% of employees in the construction and public works sector are exposed to noise pollution in the workplace.SUMER study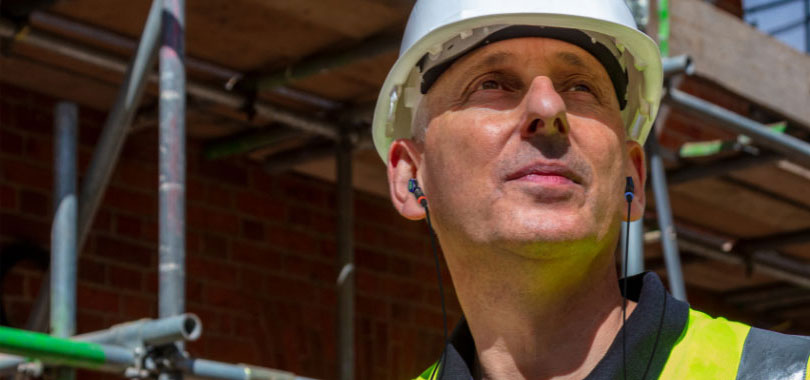 According to a SUMER study (medical monitoring of employee exposure to occupational risks), more than 65% of Construction and Public Works employees are exposed to severe noise pollution at their workplace. Such a phenomenon is not without consequences: the repercussions on the health of construction workers are multiple and can lead, in the worst cases, to hearing loss. One of the solutions to protect yourself from noise on a construction site is to wear noise protections. However, for optimal efficiency, hearing protections must be adapted and, ideally, custom-made. Here is some important information you should know to decide which hearing protection to choose for construction workers.
Sound intensity levels
On the loudness scale, the threshold of human hearing is between 0 dB and 130 dB. 0 dB corresponds to the minimum of human hearing perception. At this level, we can make out the sounds emitted by our own body (joints, heartbeats, blood circulation, etc.). Up to 40 dB at night and 55 dB during the day, the sound intensity of an environment is considered normal. This increasingly corresponds to the atmosphere of a bedroom, a peaceful garden, then a quiet office, a quiet restaurant and, finally, a bustling market. In these sound conditions, no hearing protection is needed. Between 60 dB and 80 dB, some people may begin to experience extra-auditory effects such as sleep disturbance or difficulty concentrating.
The reference value for measuring noise at work is 80 dB for an 8 hour exposure work day. It is from this threshold that the employer is required to respect noise prevention and protection measures for the well-being of his employees. On average, it's around 120 dB that pain appears: the tolerance threshold is then reached for the human ear.
Assessing noise pollution to determine hearing protection in the construction industry
In the professional environment of the construction industry, employees are subjected daily to high-intensity noise on construction sites. For example, here are the decibels corresponding to the sound level of certain tools and machines:
Cement mixer: between 85 and 95 dB(A);
Circular saw, planer: between 95 and 100 dB(A);
Concrete mixer truck, self-propelled crane: between 100 dB(A) and 110 dB(A);
Jackhammer, petrol chainsaw, road roller: above 110 dB(A);
All these occupational noise exposure values are recorded in the Labour Code.
Download your pack: posters for construction sector
In addition to machines and tools, construction workers are confronted to noise in co-working situations. This is something that is often underestimated.
To take the necessary measures to protect your employees, it's essential to carry out an evaluation of the noise level measurements. Hearing protection is part of the PPE (Personal Protective Equipment) which becomes mandatory from a certain noise level.
Without adequate hearing protection, construction workers risk serious health consequences.
The consequences of excess noise in the construction industry
In the event of chronic exposure to a high noise level, the medium and long-term health risks are real. The ear is a hypersensitive organ which not only allows us to understand our environment, but is also one of our centres of balance. So, when the noise is too intense, you can lose your bearings or even suffer from dizziness.
So noise pollution is a factor that should not be overlooked. Here are some examples of immediate consequences and pathologies likely to be triggered by noise pollution in the construction industry:
Arterial hypertension;
Sleep disturbance;
Attention deficit;
Stress, irritability or even psychological disorders;
Deafness.
For construction workers, constantly working in noise without suitable protection can therefore have very serious consequences and lead to accidents at work.
Download your pack: posters for construction sector
What does the law on noise pollution at work say
First of all, it's important to point out that the employer has duties of protection towards his employees. Limiting and controlling the exposure of his employees to an excessively noisy environment is one of his responsibilities.
Above the 80 dB (85dB in some countries) threshold on a construction site or in the workplace, the employer has an obligation to provide hearing protections for his employees. He must therefore provide them with appropriate equipment and take action to reduce the noise intensity.
Earplugs, ideally custom-made:
Noise-cancelling headphones;
Use of less noisy tools;
Introduction of an alternating traffic plan for construction vehicles;
Workstation organisation;
Installation of noise barriers.
On the other hand, noise is considered to be a negative factor at work. Constant exposure to noise entitles you to points on your Professional Prevention Account which are taken into account in calculating the retirement age.
Which hearing protection to choose for construction workers?
There are different types of noise protection for construction and public works employees.
Standard hearing protectors
On the hearing protection market, there are of course standard hearing protectors. These protectors are not made to measure and can be used for various professional activities exposed to an intrusive sound environment. Their cost is certainly lower than custom-made protectors, but their effectiveness is often not up to par. They have several disadvantages, such as:
Sound insulation: not to be confused with protection, because the user is then isolated from all communication. This can represent a real danger, especially in the construction sector.
Discomfort of use: all anatomies are different, so standard hearing protection may not suit the wearer. This then generates pain or loss of the earplug.
Custom noise-cancelling earplugs
Without a doubt, the best suited and most effective Personal Noise Protector is custom-moulded hearing protection. This is not the case with traditional earplugs, foam plugs or earmuffs.
Manufactured using specific technology, Cotral Lab custom-moulded hearing plugs have many advantages: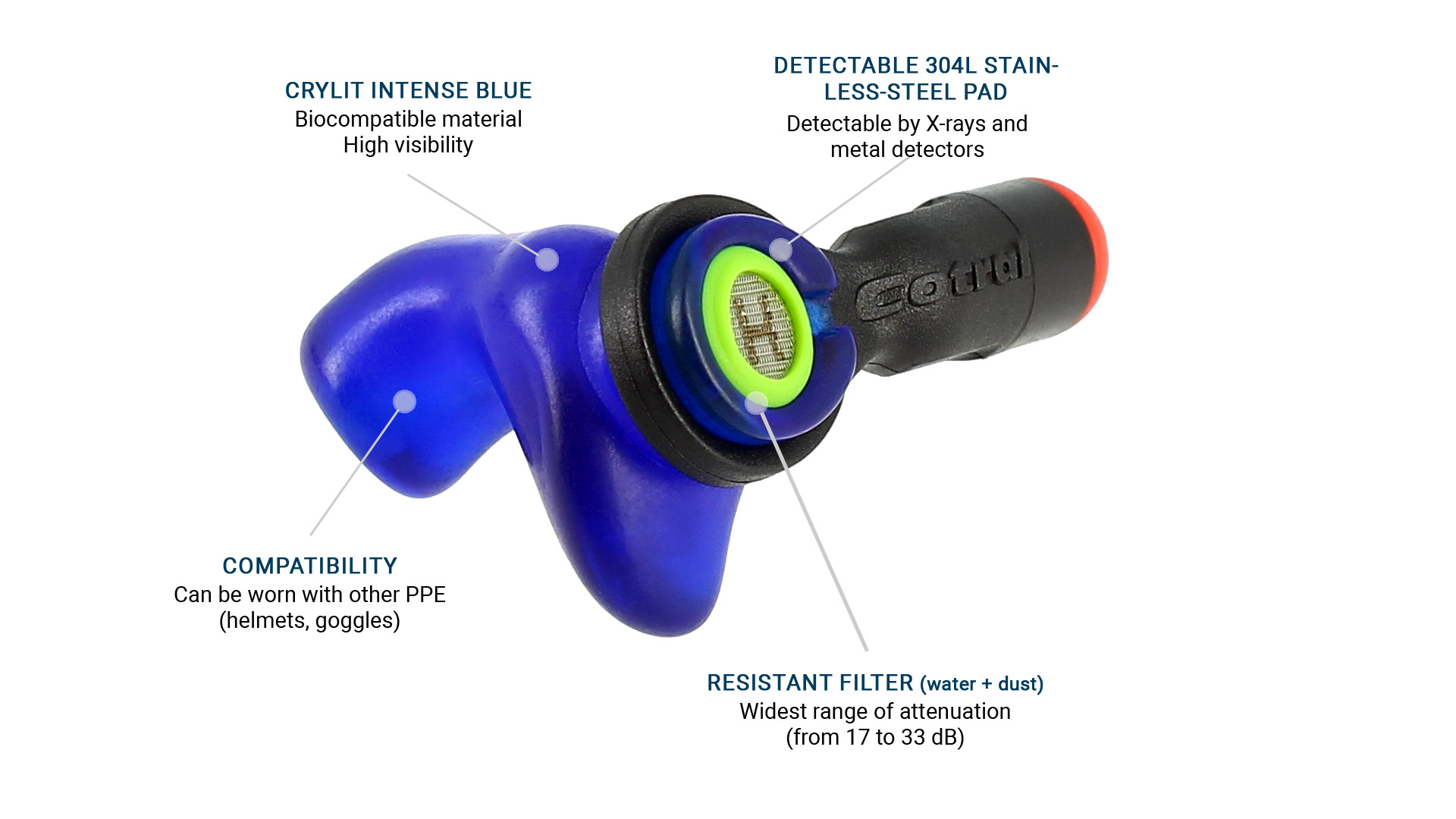 Comfort of use:
By definition, custom-made hearing protectors perfectly match the ear anatomy of the user thanks to ear impressions taken before manufacturing. They can therefore be worn without discomfort for several hours at a time. For use in the construction industry, the earplugs are equipped with specific accessories such as a clip or handle for easier handling.
Optimal protection that does not isolate you:
The earplugs manufactured by Cotral Lab are equipped with a filter adapted to each need, depending on the noise level and hearing sensitivity of the user. So they let you effectively protect against noise pollution without isolating the employee from their work environment.
Compliance and long-term warranty:
Made in accordance with the EN 458 standard, our hearing protectors comply with current manufacturing standards. They are guaranteed for 6 years and can therefore be replaced in the event of a material, comfort or attenuation defect.
Easy maintenance for perfect hygiene:
Designed to resist water and dust, the filters fitted to Cotral Lab custom-made hearing protectors can be used in any type of environment and particularly on construction sites. Even under intensive use, they retain all their properties if they are maintained daily with our cleaning solutions.
A personal space to manage custom hearing protections:
Need to report the loss or breakage of your earplugs? Thanks to a dedicated customer area, the manufacturing procedure for a replacement is quick and easy. Real-time order tracking saves a lot of time.
Noise pollution prevention measures
Noise pollution in the construction industry is the subject of constant research to improve this issue as much as possible and find solutions to protect the health of employees. Prevention and information remain two priority areas of action to raise awareness among construction workers and introduce good habits. Some construction companies carry out preventive actions such as:
"Safety quarter-hours" led once a month by site managers. Advice is given at these events to adopt the best measures against noise;
Mobile apps for site managers intended to report risks or problems in real time;
Notebooks so that employees can record the risks or dangers observed;
The distribution of awareness documents intended to inform about the risks by explaining them and providing solutions.
Thanks to suitable equipments such as custom-made hearing protections and effective awareness campaigns, it's quite possible to manage noise pollution in the construction industry and greatly reduce its impact on employees' health.
Do you want to raise awareness among your employees?
Discover the poster pack for the construction and Public Works sector. A set of 4 printable posters in A3 format to be displayed in strategic places (changing rooms, site huts, etc.).
Content of the poster pack:
The effects of noise on the body
How the ear works
How the inner ear works
The construction noise scale